Somewhat resembling a tear drop trailer, Utilitoy is a new concept, ultra-lightweight trailer that can function as a toy hauler, utility cargo trailer and very basic travel trailer.  Using an innovative composite material that is light, but strong, Utilitoy weighs just 1020 lbs., with a useful payload of 1100 lbs. The aerodynamic profile  and light weight allows it to be towed even by small fuel efficient four cylinder vehicles.  Utilitoy can be quickly transformed from utility trailer to sleeper.
From Utilitoy website:
The composite floor and sidewall panels are made from a 1.5″ thick polypropylene honeycomb core that is sandwiched by two fiberglass (FRP) UV protected skins. These panels are ultra lightweight, super strong and will last a lifetime.

The durable and semi translucent roof component is what makes Utilitoy special. The roof component is a 5/8 inch thick hollow core polycarbonate extrusion that is UV protected. This material is capable of withstanding a 225 mph wind gust and cannot be penetrated by golf ball sized hail stones.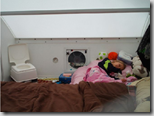 "Camper mode" – Utilitoy is a very basic camper with limited recreational vehicle functionality. With no built-in galley, toilet, shower, seating, or beds, it provides a simple shelter that can be augmented with traditional camping gear.  Available trailer equipment options include:  deep cycle battery package, shore power system; Fan-tastic ventilation system; air conditioner; convenience package.  Utilitoy also offers several accessories: outdoor dining ensemble by Grosfillex; sunshield custom made from high grade total blockout vinyl; trailer hitch receiver umbrella support system; and quad fold full and queen size mattresses. When outfitted with the optional queen size mattress and full size mattress, Utilitoy becomes a camping sleeper capable of accommodating a family of four.
"Utility mode" – Utilitoy can be used to haul just about anything from building supplies to new furniture.  The cargo bay, 10' x 6.5' in size is waterproof and easily cleaned. Dirty loads, such as mulch or top soil are no problem – whatever's left can be washed out with a garden hose.  Utilitoy's rear doors have lift-off style hinges, with the doors easily removed, allowing transport of longer cargo such as lumber or a canoe.  In utility mode, Utilitoy can haul "the largest of 4 wheelers, bicycles, kayaks, canoe or whatever toys you need to haul."
Visit the Utilitoy website for more information.