On September 23, after we had moved from Devils Garden Campground in Arches National Park to a campground near Moab, we took a drive to see some some of the area that we had never been through before.
Heading northeast out of Moab on US 191, we turned left onto Utah 128 just before the bridge crossing the Colorado River.
Designated "Upper Colorado River Scenic Byway,"  Utah 128 follows the Colorado River Gorge for over 30 miles, after which it crosses open desert towards Cisco.  Now a ghost town, Cisco was established as a station for replenishing the water supply on steam locomotives on the Denver and Rio Grand Western Railroad main line.  Five miles past Cisco, Utah 128 intersects Interstate 70.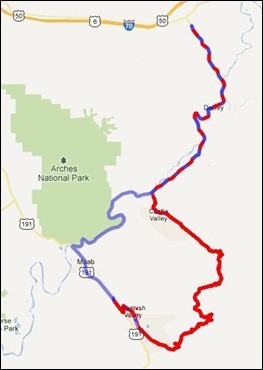 For the first 13 miles, the highway parallels the river through a narrow section of the gorge – part of this distance, the gorge is part of the boundary for Arches National Park.  The gorge widens after that, passing Castle and Professor Valleys, shooting locations for western films and television commercials.  At 24.7 miles, a dirt road leads to a viewpoint for the red spires of Fisher Towers.
Our drive (blue) took us almost the full length of the scenic byway, including driving to the Fisher Towers viewpoint.  We turned back just short of Cisco.
On the way back to Moab (red), we turned at the La Sal Mountain Loop Road, which is also the road into Castle Valley.  While the road signs were less than optimum, we were able, with the help GPS, to take the right turns on the Forest Service roads.  The road is paved part way.
The La Sal Mountain Range, in the Marti-La Sal National Forest, is the second highest range in Utah, with peaks approaching 13,000 feet.  Pines, quaking aspens, and streams make this alpine region a sharp departure from the desert country around Moab just a few miles away.
---
Selected Information Resources:
Moab