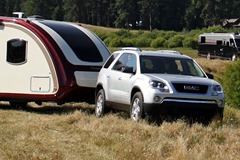 For RVers, a tow vehicle is the truck, car, SUV, or van used to pull their camping trailer.  It can also be the RV when the RV is used to tow a car or some kind of trailer.
Matching  of trailers to appropriate tow vehicles is crucial for proper trailering performance and safety.  Don't depend on the sales pitch from the tow vehicle or trailer salesmen. They are there to make a sale.  Knowledge and understanding of tow and trailer weights, limits, and concepts trump the hype of the salesmen. (See Research References below.)
Every tow vehicle has a limit to the weight of what it can tow.  A small car may have a towing capacity of under 1000 lbs. while the largest pickup trucks, when equipped with a fifth wheel hitch might be able to tow about 25,000 lbs. The vehicle owners manual will have information on the weights that the vehicle can safely tow.  The manufacturer's weight capacity specifications should never be exceeded.
A vehicle's tow ratings will be limited by several different factors.  For most vehicles, automatic transmissions offer higher tow ratings than manual transmissions.  Lower gearing in the axle typically results in higher tow capability because of greater torque multiplication.  Towing packages, which may be required to get the top tow rating, may include changes to the tow wiring system, battery, cooling system, alternator, power steering and lubricants. Ironically, a tow package and tow hitch can add another 100 lbs. to the weight of the vehicle.  A four wheel drive (4WD) vehicle may have a lower tow rating than an otherwise identical two wheel drive (2WD) version because of additional weight. Dual rear wheels on a pickup provide a more stable towing rig for heavier trailer, but the added weight for a "dually's"  wider axle, bigger brakes, and added tires and wheels may actually result in a lower tow capacity.  Other factors that can impact towing capability include tire size and, for pickups, the bed length and style, as well as the cab style.
Vehicles that seem very similar in power, size, and weight may have very different towing capacities.  In fact, some vehicles' owner manuals specify that they not be used for towing.
Type of Vehicle

Example Models

Max Towing Capacity

Compact car

Focus, Cruze, Civic

under 1,000 pounds

Full-size car

Impala, Taurus

1,000-2,000 pounds

Mid-size Crossover

Edge, Equinox/Terrain, SRX, Highlander

2,000-4,000 pounds

Mid-size truck orSUV

Explorer, Durango, Dakota

3,000-7,200 pounds

Full size 1/2 ton truck or SUV

Expedition, F150, Tahoe, Sequoia, Suburban

5,000-11,200 pounds

1-ton or 3/4 ton truck or SUV

F250, Silverado HD, Ram 2500, F350, Ram 3500

10,000-16,000 pounds

Commercial Truck

F450

16,000 pounds
24,600 with fifth wheel
---
Research References:
Trailer Life – Choosing the Right Tow Vehicle, February 15, 2008
hitchinfo.com – Hitches and Towing 101, Chapter 2 – Towing Components.
Trailer Life – Trailer Towing Guides
AutoTrader.com – Choosing a Tow Vehicle
Tow Weight Calculators: