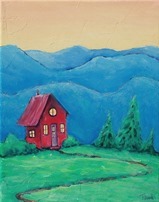 Today, simpler living in smaller spaces has caught the imagination of many. Tiny houses – typically 500 square feet or less, though many are larger a – are beginning to gain a foothold in many places across America, including many cities. While they come in all shapes, sizes, and forms, the focus is on smaller spaces and simplified living. Most are built on trailers that can be moved to new locations.
The tiny house movement, also known as the "small house movement," is an architectural and social movement advocating living simply in small homes. Participants join for many reasons. Environmental and financial concerns and seeking more time and freedom are some of the more common.1 Other reasons include simplification, affordability and location independence.
Many tiny houses are tailored for middle-class and
wealthy families who made a conscious decision to "build better, not bigger." While promising, the movement is small, with only about one percent  of home buyers opting for homes of less than 1,000 square feet. Some are on wheels, resembling RVs, but built to last as long as traditional homes.  Others are clever architectural solutions for special design challenges or odd building lots.2
Their compact size can make them energy efficient, require fewer building materials, less land and less maintenance. Some, like (Dee) Williams' 84-square-foot house, go off grid with solar power and propane.

Tiny houses can work as an office, workshop, playroom or guest room or be a separate but nearby home for a member of a multigenerational family, from grandparents to adult children.

They can be rented out for extra income.

Older homeowners can downsize and still age in place or the smaller house can accommodate live-in caretakers.4
For most places, tiny houses are uncharted territory posing myriad questions: "How should it be zoned? Where can I put it? According to the laws of the city I live in, is there such a thing as too tiny? These questions are often met with a fair bit of head-scratching, because relatively speaking, American cities are just starting to learn how to deal with tiny houses themselves."3 In several cities, tiny houses are being built and/or planned to provide homes for homeless people, often using recycled wood and volunteer labor.5  Brainerd, Minnesota, has a plan that limits the tiny houses to 500 square feet or larger – a limit made to accommodate concerns that tiny houses might lower the values of neighboring properties.
Living in a tiny house will, for many, require major lifestyle choices, including living with minimal belongings and a high tolerance for intimacy if the space will be shared.
Small quarters can offer huge advantages.  Tiny houses are often far more affordable than full-size homes.  While the cost per square foot is , in many cases, substantially more in a tiny house, the total cost is often much lower because of the smaller size.  Tiny houses typically cost from $200 to $400 per sq. ft.
As a result of the lower overall cost, owners of tiny houses often live mortgage free.  On the other hand, because these small homes are unique and hard to compare against  other properties, mortgages may be harder to obtain.
Monthly utility costs for a small home will be substantially lower than those for a conventional home.   Also, unlike mobile homes and RVs, tiny houses tend to be very well insulated, and energy efficient, with a significantly smaller impact on the environment compared to conventional housing.
Popular options include solar for electricity, propane or wood burning stoves for heat, on demand hot water heaters, and composting toilets. "Options for a tiny house are as varied as the people who buy them. They can be mobile or permanent structures — which typically are less expensive than their mobile counterparts — and can have any feature or amenity found in a more traditionally sized home."6
---
Footnotes:
a In researching for this article, I discovered that square feet values used to define tiny houses varied widely from source to source.
Sources:
1 What is the Tiny House Movement? – The Tiny Life, Tiny Houses, Tiny Living.
2  Tiny Houses With Big Ambitions – Time, Solutions for America
3 Cities, get ready — the tiny houses are coming – Grist
4 Tiny houses are earth friendly 365 days a year – The Oregonian
5 Homeless People Say These 99-Square-Foot Tiny Houses Are 'Life Changing' – Huffington Post
6 A building boom for tiny houses – Springfield News-Leader
Image information

 Tiny House with a View by Tracy Booth, Some rights reserved by Tiny House Paintings
 The Entranceby Nicolás Boullosa, Some rights reserved by nicolas.boullosa
 My favorite part of the tiny house by Tammy Strobel, Some rights reserved by RowdyKittens
Tiny House Links