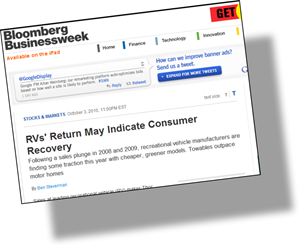 Hi gas prices, scarce credit, and a recession have slammed the recreational vehicle industry in recent years.  An article in Bloomberg Business Week,  RVs' Return May Indicate Consumer Recovery, by Ben Steveman, ties improving conditions in the Recreational Vehicle Industry to the developing economic trends.
Following a sales plunge in 2008 and 2009, recreational vehicle manufacturers are finding some traction this year with cheaper, greener models. Towables outpace motor homes .
and
Americans' willingness to spend, if not splurge, on so-called second homes on wheels could in turn provide a clue to positive trends in the broader economy.

"The RV industry is a great leading indicator for the overall health of the economy," says Kathryn I. Thompson, founder of Thompson Research Group in Nashville, Tenn. Over the last decade, manufacturers have produced an average of 309,000 RVs a year, according to the Recreation Vehicle Industry Assn.

On Sept. 28, Thor, the largest U.S. maker of recreational vehicles, reported a 51 percent jump in last quarter's sales from a year ago. Profit rose 64 percent, with net income exceeding by 16 percent the estimates of analysts surveyed by Bloomberg.
Read the rest of the article in Bloomberg Business Week,  RVs' Return May Indicate Consumer Recovery, by Ben Steveman