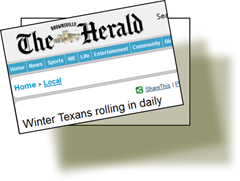 Violence on the border and the economic slowdown are not keeping RVers  from their annual winter stays in the Rio Grande Valley, according to an article in The Herald of Brownsville, Texas. In Winter Texans rolling in daily, Isaac Garcia reports:
In Harlingen, Paradise Park manager Dan Pearson said he expects about 1,000 Winter Texans and 500 RVs to return this year, a number that is holding steady with the previous year.

"Winter Texans aren't greatly affected by the economy like other groups," Pearson said. "A lot of them have pensions, or money saved up."

Pearson also supported the attitude that despite border violence, Winter Texans will still migrate here when the weather turns frosty in northern states.

"There really is no competing with the Valley," Pearson said. "The climate in Florida is basically the same, and for a couple of thousand dollars cheaper, Winter Texans can come and enjoy all the Valley has to offer."

Penny Simpson, head of the Valley Markets and Tourism Research Center at the University of Texas-Pan American, believes that the number of Winter Texans staying in the Valley will continue to grow, unless an unforeseen national tragedy occurs.
Read the full article: Winter Texans rolling in daily