Awning – Retractable fabric shade mounted on the side of an RV.  Patio awnings – roof-like coverings that extend from the body of the camper –  are most commonly used, providing outside shade and some protection from the elements. Manual and power operated models are available.  RV screen rooms can be connected to the awning as can decorative awning lights. Other types of awnings are also used with RVs:
Note: This post is part of a continuing series created during the development of a glossary of
RV Terms and Definitions
for a new website.
Window awnings – shade and protection from elements over individual windows.
Slide-out awning; keeps off rain, snow and debris that can damage slide seals and migrate into the RV.
Entry door awning – shades the entrance and provides cover from the elements.
Outback awnings – canopy awnings that provide cover over toy hauler ramp as well and can be combined with a screen room.
Axle ratio – The ratio of the number of turns the drive shaft makes for each rotation of the rear tires as established by the ring-and-pinion gears in the rear axle.  The gears in the axle change the direction of drive rotation by 90° from the drive shaft to the axle shafts.  The gears also multiply the force provided by the drive shaft – the torque – providing a mechanical amplification.  Higher ratio values provide more torque per rotation of the drive shaft.  For example, a 4.10:1 means that the drive shaft must turn 4.1 turns to rotate the axle one revolution.  As well, if the drive shaft is delivering 100 lb-ft to the axle, the axle gears multiply that force by the same ratio (100 x 4.1 = 410 lb-ft). Lower gear ratios in the axle provide lower torque, but higher speed for the vehicle.  With a 3.08:1 ratio, the 100 lb-ft. torque of the shaft would deliver 308 lb-ft to the axle, a 25% reduction in torque.  A higher ratio gives more torque and less road speed for a given engine RPM, with a lower fuel economy.  For fuel economy, a lower axle ratio is best.
Axle weight – The axle weight or load of a vehicle is the total weight transmitted by all the wheels on a given axle to the surface beneath it. 5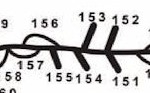 Back in – a campground site with a single entrance, normally referred to as a back in site.  In the campground map segment on the right, sites 151 – 155 are designated as back in sites. Campgrounds with hookups at back in sites will normally have the hookups on or near the left side of the RV when the camper is backed in and picnic table and fire ring, if provided, on the right side.
---
5 Wikipedia – Axle load