A bride we crossed numerous times on a 2009 camping trip to Door County, Wisconsin was involved in an accident that badly damaged the front of a Class A motorhome.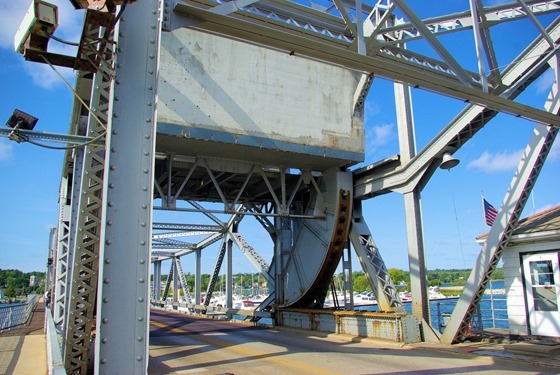 Random camping and travel images #7
Three views from surveillance cameras show that the driver
of an RV is not at fault in encounter with bridge. 
On June 23, the front of a large motor home was crushed by the counterweight of the Michigan Street Bridge in Sturgeon Bay.  An article on the  Green Bay Press-Gazette website says the a completed investigation and video released by the police department shows that the driver of a 42 foot RV was not at fault.
Caught in heavy traffic, the recreational vehicle had not made it across the bridge when it began to lift.  The driver was  following a detour route bypassing the Bayview Bridge which was closed for repairs.  The bridge tender, as a result of the detour, was dealing with heavy vehicular and pedestrian traffic.
The report says the driver, familiar with the operation of drawbridges in Florida, "stayed where he was at and thought that if he was in a bad spot, the bridge tender would have him move. The video from the bridge supports this statement and for this reason, no citations will be issued to the driver of this motor home."
The accident occurred next to the bridge tender's office on the bridge.
Unfortunately, the office was closed by the Wisconsin Department of Transportation in 2008, with the Michigan Street Bridge being remotely operated from the Bayview Bridge tender office.
A DOT spokesman says that all three Sturgeon Bay bridges will eventually  be remotely controlled by a one operator on the Maple-Oregon Bridge.
Read more in the article on the  Green Bay Press-Gazette website.
Sturgeon Bay Links.
City of Sturgeon Bay
Sturgeon Bay Visitor Center
Wikipedia
Facebook