Off road recreational vehicles are only made by a few manufacturers. Several of those described below are quite interesting and would be neat to have, except for being a bit too cramped and/or somewhat out of range of our income. [Page updated November 2017 with new EarthRoamer info and links to related videos.]
EarthRoamer
An RV that doesn't need electrical hookups
Each EarthRoamer Xpedition Vehicle (XV) is a compact, energy efficient, solar powered luxury home, built on a go-anywhere, four-wheel drive, Ford commercial duty truck chassis, and powered by a quiet, efficient and powerful turbo diesel engine. EarthRoamer XVs offer unprecedented versatility, style, quality, and ease of operation. Unlike conventional RVs that depend on noisy generators and campground electrical connections for power, EarthRoamer Xpedition Vehicles use massive solar panel arrays, huge engine driven alternators and large battery banks to provide quiet and environmentally responsible power. All EarthRoamer XVs feature strong, lightweight, attractive, one-piece molded seamless composite bodies.
Each EarthRoamer is individually handcrafted and sold factory-direct from the Colorado factory, with a waitlist typically 7-9 months from time of order. Two models are now offered, the XV-LTS and the XV-HD, the "next level in luxury overland vehicles." Each can be outfitted from an extensive array of available options, floor plans and color schemes.
A limited inventory may exist consisting of reconditioned, "like-new" pre-owned XVs or brand-new, premium "spec" trucks, fully loaded, with popular features and colors chosen by the experienced EarthRoamer team – only a couple of spec trucks are built each year.
There is much more informative and interesting information at the manufacturers website, including granite countertops, maple cabinetry and options for satellite TV and radio.
Videos:
Tiger Adventure Vehicles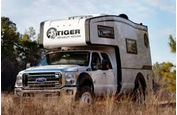 From the website:
"Tiger Adventure Vehicles provide over-the-road excursions, but more importantly, provide the freedom to explore off the beaten path as well. Tigers have prowled through North American back country, including the American West, Canada, Alaska, Labrador, and the Arctic Circle. They have also traveled through Central and South America, the Middle East, Europe, Japan, and points beyond."
"The Tiger is designed in every way to be a sturdy, dependable, fully self-contained RV that can go most anywhere with comfort, versatility, and safety. The Tiger provides true off-road maneuverability by using a truck chassis, which provides high ground clearance and 4×4 capabilities. For those that prefer over-the-road adventures, the Tiger offers amenities including walk-through from the cab to the coach, a full galley, sleeping for up to four, and an enclosed bathroom."
Global Expedition Vehicles (GXV)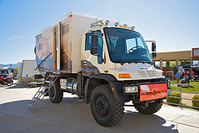 From the website:
"Extraordinary travel requirements require an extraordinary vehicle. GXV is a custom builder of extreme off road capable vehicles for vacation travel, expeditions, exploration, wild game hunts, search and rescue, remote filming, research, mobile command centers, mobile labs, survival and more."
"Custom built Expedition Vehicles from GXV have redundant marine grade utilities, extended range fuel and water capacities, comfortable sleeping room for four, beautifully equipped kitchen and bath areas, satellite communications, entertainment centers, computer stations, huge cargo garages and unmatched 4×4 chassis performance from companies like Mercedes, Freightliner and Ford."
Photo from Flickr; credit and creative commons license: Some rights reserved by indigoprime (Attribution-ShareAlike 2.0 Generic)
Sportsmobile

Sportsmobile builds custom conversions, including 4X4 for serious offroading.
From the website: "The Sportsmobile 4WD Vehicle is for the most discerning of off-road enthusiasts. Only the best heavy-duty components are used to give the absolute best off-road performance while maintaining exceptional on-road performance. This combined with over five decades of experience designing and manufacturing van campers makes the Sportsmobile 4WD a truly unique product."
XPlorer Motor Homes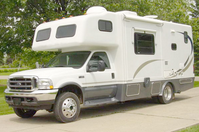 Xplorer Motor Homes manufactures several models of four-wheel-drive motohomes as wel as true 6X6 conversion for any make or model the customer has them build. Originally in a rural area north of Detroit, the company was acquired by Startracks Custom Vehicles and moved to Elkhart, Indiana. (Manufacturer's website)
All Terrain Warriors USA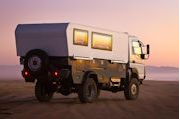 With 25 years in the 4X4 off-road industry, All Terrain Warriors Australia teamed with Sportsmobile West in 2012 to form All Terrain Warriers USA to assemble, market and distribute off-road recreational vehicles built on the Mitsubishi Fuso truck chasis.
From the website:
"Our goal is to engineer, modify and build world class expedition vehicles and accessories. We are dedicated to providing vehicles that support the expedition and off-road lifestyle."
Unicat Americas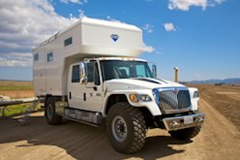 Unicat offers six different models of the TerraCross expedition vehicles as well as vehicles designed for individuals and professional applications.
Info about TerraCross from the website:
"6 vehicle types are available to accommodate your personal ideas about travel. Though the basic needs of globe-trotters are much the same, their demands on the vehicle itself differ: Lone traveller, twosome, family, class of driving licence, destination, infrastructure, terrain, duration of the journey … All these criteria ultimately determine the optimum vehicle and the suitable chassis.
TerraCross translates these criteria into 6 vehicle models geared to these different requirements. These vehicles already have proven themselves on the actual journeys of many satisfied customers.
The optimum layout of the bodies interior was created by the experts for indvidual vehicle manufacturing and Klaus Därr. Technical demands have been taken in consideration as well as practical demands: seating/eating, sleeping, kitchen, shower, storage, water supply, heating, lights, electricty, weight distribution, center of gravity, stability, relayability—all aspects are well balanced."
Photo from Flickr; credit and creative commons license: Some rights reserved by indigoprime (Attribution-ShareAlike 2.0 Generic)
EarthCruiser Overland Vehicles
An Australian manufacturer of overland expedition vehicles, EarthCruiser opened a US based office in Bend, Oregon in 2012 and in January 2013, the first US delivery was made to an anonymous business executive. The comapny plans to manufacture expedition vehicles in Bend built on a Mitsubishi Fuso 4X4 truck chasis.
Out of Business
Chinook Baja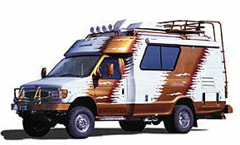 Chinook RVs Baja model was produced with duel rear wheels and was available with after-market 4 wheel drive. With a luxurious fully equipped interior—though cramped for our tastes—the Baja was listed at $120,000 – $150,000 on the manufacturer's website, before the company's demise in 2005. According to Tin Can Tourists, "In January 2013, the intellectual property rights of the Chinook brand, including the nameplate, designs, templates, manufacturing jigs, molds and support equipment were acquired by Phil Rizzio…. with plans to open up a new production line of the fabled Chinook RV."
Revcon Trailblazer 4×4 (2004)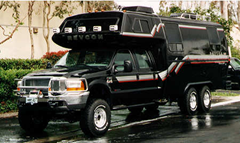 (Production suspended, according to the New York Times.) With it's outer skin constructed of aircraft aluminum, it is 32′ in length, 96 inches wide, and 10 ½' tall. It boasts a full size bed in one floor plan. A 4kw "silent" generator is standard. Options included an upgrade to a 6kw generator, a 9,000 or 12,000 lb. front bumper mounted winch, a water purifying system and much, much more. With pricing starting at $134,000, with options, the price could exceed $150,000. The pages for the 2004 model are still online at the manufacturer's website.
Revcon Trailmaster 4×4 (2003)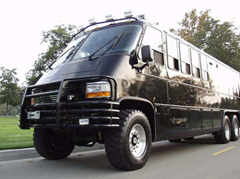 An upper end motor coach on steroids, all features for the Revcon Trailmaster were listed as standard, with a price on the manufacturer's website of $780,000. Features included a combination washer dryer, a Jacuzzi tub and shower combination, two Italian leather captain chairs in the "crew cab," remote control satellite dish, two 7 kw generators and a 12,000 lb winch. (brochure — pdf)