Several years ago, I put together a page on off road RVs.  While it's a bit out of date, it still gets a bit of traffic and is ranked well in some of the internet search engines.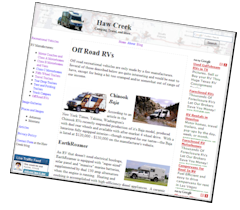 Over the next few days, the off road recreational vehicle page will be revised to provide links to many of the current offroad RV manufacturers, such as  Unicat, Dunkel, Tiger Motor Homes, and EarthRoamer.
The links won't be limited to motorized RVs.  If a towable RV fits the bill of being sturdy enough for off road use, then I'll include that, too.
As the page is developed and revised, I may include relevant posts here related with what I'm finding.
A trio of  off road RV videos.
Dunkel Industries
Unicat expedition vehicles
Unimog