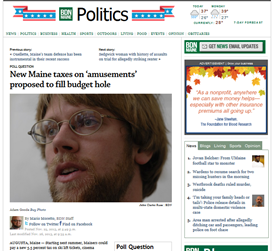 Municipal revenue sharing from the state of Maine faces cuts if the state doesn't find some money.
Facing a tight fiscal environment, Maine has mandated that $40 million in savings have to be identified by the end of 2013.  The savings must be realized during the current budget period which ends June 30, 2015.
A Bangor Daily News article says, "A new tax on "amusements," as defined by the committee, could bring $20 million in revenue to the state annually. It would affect admission fees to concerts, movies, amusement parks, festivals and zoos. It also would affect fees for sporting and outdoor activities such as golf and skiing, as well as scenic and sightseeing excursions." Most of these services have never been taxed.