My newest gallery of images is from two weekend visits to the Dane County Farmers' Market on the Square in Madison, Wisconsin, on September 13 and 20, 2008.
Both visits provided a wide variety of opportunities for photography.
The first weekend visit was on a rainy Saturday. A number of the gallery images include people with umbrellas while others are of the vendors and their products. There are also several photos that include the Wisconsin Capitol building.
The second Saturday visit was a sunny day. Along with the product vendors, there were also musicians and street artists.
The Saturday farmers' market is huge. We made it all the way around the square on the first visit in about 2 hours.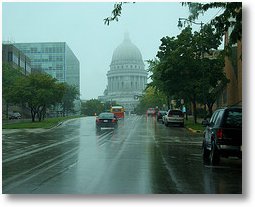 The Farmers' Market is held on Saturdays, rain or shine, from the middle of April through the beginning of November around the state Capitol Square. It is also held on Wednesdays during the same period in the 200 block of Martin Luther King, Jr. Blvd., rain or shine. During the winter, it can be found at other locations — indoors, of course.
The market is a producer-only farmers' market. All products in the market are produced by the vendor doing the selling. No resale is allowed.
The Dane County Farmers' Market (DCFM), operating continuously since 1972, is an outlet for Wisconsin-produced homegrown fruits, vegetables, meats, cheese, eggs, bakery products, cider, maple syrup, honey, sorghum, fresh and dried flowers, herbs, houseplants, jams and jellies, pickles and other prepared food products.

… intended to give growers and producers of goods and consumers an opportunity to deal directly with each other, rather than through third parties.

… intended to enhance the Capitol-Concourse area of the City of Madison.
More information on the farmers' market can be found on the Dane County Farmers' Market on the Square website.
____________________
Haw Creek's Dane County Farmers' Market on the Square photo gallery