We have visited Garvan Woodland Gardens twice and will certainly visit it again in the future. For those who enjoy botanical gardens, Garvan is a treat, with its setting in the woodlands on a peninsula stretching out into a scenic lake.

When you visit, take a camera and  be prepared to stay a while.
It would be prudent, especially during the warm months, to carry water and a snack.  On our first visit, we didn't and regretted it.  On our second visit, we were better prepared and, because of that, were able to cover more ground – not that we were hurrying.  We explored for several hours, took plenty of pictures, and still didn't see all of the gardens.
Garvan Woodland Gardens is  canine friendly, with admission for dogs the same price as  that for kids 6 to 12.
Situated on a woodland peninsula on Lake Hamilton, Garvan Woodland Gardens is the botanical garden of the University of Arkansas, part of the Fay Jones School of Architecture.
Garvan Woodland Gardens is the legacy of Verna Cook Garvan. She bequeathed the land to the Department of Landscape Architecture at the University of Arkansas upon her death in 1993. The 210-acre site is an oasis of naturalized gardens, native environments, stunning geologic formations, a ubiquitous waterscape, and one of the largest collections of E. Faye Jones and Maurice Jennings architecture in the country. The Gardens lie at the edge of Lake Hamilton, a 7,460-acre lake created by Carpenter Dam. Having Lake Hamilton as a dramatic backdrop accentuates the Gardens' naturalized setting. The Gardens are also adjacent to the Ouachita Mountains, a 1.8 million-acre, lake-studded landscape of hardwood forests. The region's pines, oaks, maples, sweet gum, and hickory are well-represented in the Gardens. Their presence creates a peaceful retreat for visitors and ideal growing conditions for shade-loving plants. 1
The property which is now the gardens was purchased in the 1920s by Malvern businessman Arthur Cook, owner of Wisconsin-Arkansas Lumber for the  harvesting of hardwood timer for flooring.2  In 1932, the filling of Lake Hamilton, originally created for power generation, turned the Cook property into a peninsula.3, 4  After Cook's death in a 1934 car accident, his daughter, Verna, assumed control of the family assets, managing one, Malvern Brick and Tile Company, with her husband, Patrick Garvan, for over forty years until it was sold in the 1970s.5  The Garvans resided in Hot Springs.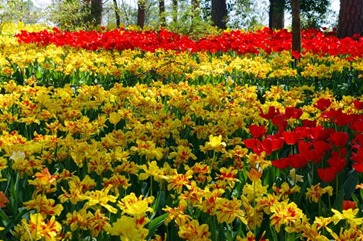 The land had been clear-cut in about 1915, but Mrs. Garvan never allowed it to be cut again.  A self-taught gardener, in 1956, she began to develop the property as garden and possible future residence.  Intimately familiar with the land, she laid out each path, marked each tree to be cut, and personally chose each plant, including where it was to be planted. Over the next 40 years, thousands of specimens were planted, with hundreds of rare shrubs and trees, many now over 40 years old.  The plantings include over 160 different types of azaleas.6
The dream of a home on the peninsula ended with the illness and death of Patrick Gravan in 1975.  Mrs. Garvan continued to develop the grounds, deciding the garden should be shared with the public, enlisting Warren Bankson to assist with her vision and naming the garden creation the Twentieth Century Gardens.7
In the center of the original plantings is the Garvan Pavilion, designed by nationally acclaimed architects E. Fay Jones (winner of the American Institute of Architects' prestigious Gold Medal and former Dean of the University of Arkansas School of Architecture) and his partner Maurice Jennings. Japanese maples and tree peonies serve as an introduction to the Japanese inspired Garden of the Pine Wind, just as Mrs. Garvan always intended. Rock gardens, a conifer border, and a growing number of bulbs and perennials complete the collection, providing interest throughout the year.8
Mrs. Garvan realized that she and Bankson weren't equipped to develop a garden on the scale she envisioned.  In November, 1985, she signed a trust agreement with the University of Arkansas, "committing the School of Architecture and it's landscape architecture program to  operate Twentieth Century Gardens in
perpetuity as a service to the people of Arkansas, with the understanding that she would maintain control until her death." The first structure in the gardens – an open-air pavilion of redwood and native stone, the Verna C. Garvan Pavilion – was under construction when Mrs. Garvan was stricken with cancer, dying in October 1993.9
In the years since, the gardens, under  a 25 year master plan completed in 1999, have continued to evolve.  Garden of the Pine Wind, a rock and stream garden "was ranked by the Journal of Japanese Gardening as the fifteenth highest-ranking Japanese garden out of 300 in North America" in its third year after construction. 2006 saw the opening of, "the $5.8 million Anthony Chapel Complex, named in honor of major benefactors John Ed and Isabel Burton Anthony of Hot Springs. The six-story, wood-and-glass chapel is complemented by the Millsap Bride's Hall, Evans Groom's Quarters, and the fifty-seven-foot Anthony Family Carillon, an electronic bell tower."10

View Garvan Woodland Gardens in a larger map
---
More information:
Garvan Woodland Gardens

Hot Springs

Hot Springs National Park
Source Citations:
1 Garvan Woodland Gardens, University of Arkansas, Interpretive Master Plan, page 4 (pdf)
2, 4, 5, 7, 9, 10 The Encyclopedia of Arkansas,  Garvan Woodland Gardens
3 Wikipedia, Lake Hamilton and Lake Catherine
6, 8 Garvan Woodland Gardens, History of Garvan Woodland Gardens