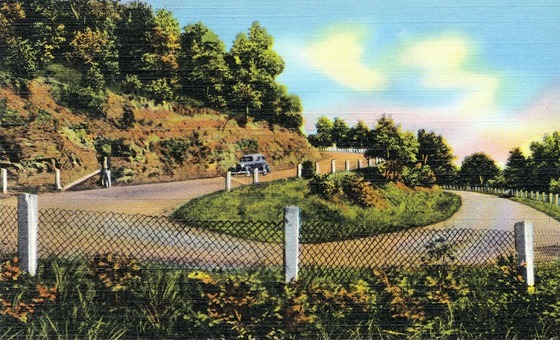 Hair pin curve, Fort Roots, North Little Rock, Ark.; linen texture postcard image, circa 1930 t0 1945.1
Fort Logan H. Roots (usually referred to simply as Fort Roots) is a military base located in North Little Rock, Arkansas. The land was traded to the Federal Government in 1892 in exchange for the property now known as MacArthur Park, in Little Rock, which had been a military arsenal since the 1830s before Arkansas was even a state. The base was named for Logan H. Roots in recognition for his work in the negotiations.

The Sixty-Sixth Congress of the United States transferred Fort Roots to the Public Health Service Department on March 4, 1921, for conversion to a veterans hospital for neuropsychiatric disorders. On June 10, 1983, a newly constructed hospital building was dedicated on the existing property. The main hospital building was formally named the Eugene J. Towbin Healthcare Center in May 1996 in honor of Eugene J. Towbin, M.D., Ph.D., in recognition of his 40-year career at the VA Medical Center. The Center provides long-term, rehabilitative care for eligible veterans.
Links:
1 Image from Flickr;  credit and creative commons
license:
Some rights reserved by Boston Public Library  (Attribution 2.0 Generic)
Random camping and travel images #28