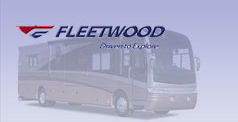 Fleetwood Enterprises, Inc.  has filed for bankruptcy and may sell itself after a year in which it lost 98% of its market share and U.S. shipments of recreational vehicles fell to a 30 year low. The company's 44 subsidiaries also filed for bankruptcy.  A spokesperson for the company ssaid that it is in discussions with buyers for all or part of its business.
The company has not made a profit since 2001.  The 59-year-old company, with assets of $558,300,000 and a debt of $518,000,000, filed Chapter 11 papers in Riverside, California. Elden Smith, the company CEO, said in a statement, "We will use the Chapter 11 process to more rapidly restructure our overhead, pursue potential buyers and definitively resolve our debt issues."
Smith also said, "Although we made substantial progress in restructuring this division and improved the product offering, current market conditions proved too severe to continue the turnaround."
The company has more than 60,000 creditors, the largest unsecured creditor being Bank Of America Corp., with a potencial debt of $62,200,000.
Fleetwood's travel trailer division will be closed, closing 3 factories and 2 service centers, eliminating 675 jobs.  An addition 65 corporate workers are also being laid off.  The motor home and manufactured housing will continue operation while Fleetwood seeks buyers.
Fleetwood began laying of some of its 5,500 employees in November, reducing its workforce to about 3,000 across 10 states.  The company sells through more than 2,150 dealers across the U.S. and Canada.  It has 289 law suits pending in federal and state courts over personal injuries and warranties.