A fifth wheel trailer is a camper that is designed to be towed using a special, heavy duty hitch mounted to the bed of a pickup or flat bed truck. In this arrangement, the trailer is attached over the truck's rear axle and wheels, which then supports about 15 to 25% of the trailer's weight.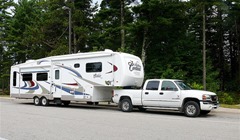 The phrase fifth wheel refers to the connection of the trailer to the hitch in the bed of the truck. The phrase originally referred to a turntable device that allowed the front axle of horse-drawn wagons and carriages to pivot with the animals as a turn was made. With the advent of steam, electric and gasoline engines, the fifth wheel was modified in some applications to allow connection of these wagons and carriages over the rear axle of a motorized tractor. This modified fifth wheel evolved into the hitch systems used today with fifth wheel RV campers and semi-tractor trailers.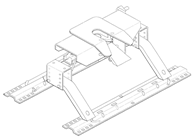 In RV applications, a fifth wheel hitch, mounted in the truck bed, is used to connect the truck and trailer.  Featuring a heavy duty pivoted plate with a guide slot and locking mechanism, the hitch is pinned in place to a set of rails anchored to the frame of the truck.  By pulling the anchoring pins, the hitch can be removed, leaving the bed available for maximum cargo capacity.

A downward facing plate on the fifth wheel camper has a large vertical pin called a kingpin, which slides into the guide slot on the lower plate and is locked into place by the 5th wheel hitch jaws.
The hitch and kingpin, when connected, forms a flexible coupling that permits both rotational and vertical movement between the pickup truck and camper.  When connected, the downward facing plate of the trailer rests on the pivoted plate of the hitch, which then bears the weight of the forward portion of the trailer. When the rig is in motion, the two plates are in constant contact, sliding against each other.  With this constant sliding contact and the load bearing on the plates, lubrication of some type is necessary.
Fifth wheel hitches are the strongest used for towing RVs and are more stable than other hitches, far less susceptible to sway.  They can easily handle heavy loads.

Fifth wheel trailers are more maneuverable, safer and easier to tow than travel trailers.  Cornering is improved and parking, including backing, is easier, too.  On the other hand, handling a  fifth wheel trailer requires more skill and caution than motorhome RVs.  Larger fifth wheel models can be difficult to maneuver in tight places.  High profile models – tall enough to allow most people to stand upright in the living area that's over the truck bed – require additional caution to ensure clearance from low hanging branches and structures.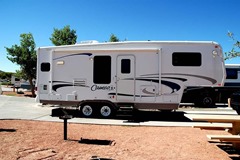 Fifth wheel trailers are available from entry level campers for occasional camping though luxury recreational vehicles suited for long term or full time RVing. Sizes range from the 19 foot Scamp to 40 foot high end models. Most models made today include at least one slide-out with three or more slide-outs on larger units, providing spacious, open floor layouts.  As well, a fifth wheel trailer will typically have more storage space than a comparably sized travel trailer.
While most fifth wheel campers require a heavy duty pickup, or larger, as a tow vehicle, there are a few light fifth wheels that can be towed by a light duty pickup truck. It is very important that the tow ratings of the truck exceed the fully loaded weight of the camper. Some recommend that the tow vehicle be rated for ten to twenty percent more that the camper's fully loaded weight.
It was once recommended that only long bed pickup trucks be used for fifth wheel towing.  Shorter bed trucks ran the risk of  cab to trailer contact – and subsequent damage – in tight turns.  Innovative designs of many current campers reduce this risk, allowing use of short bed pickups.  Fifth wheel slider hitches, able to be repositioned further back in the truck bed for turn maneuvering, were designed for short bed truck applications.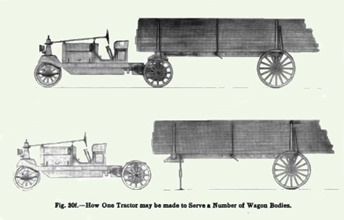 An early motorized fifth wheel application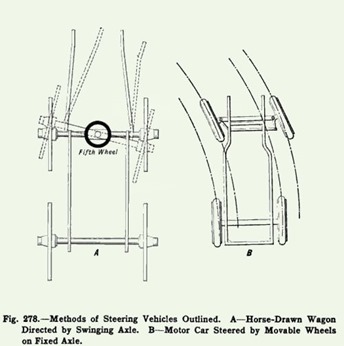 Vehicle steering methods
Fifth wheel RV manufacturers
(with listings of current models)
Americana – factory ordered models: RT, Sequoyah, Travel Bug
Coachmen RVs – models: Brookstone, Chaparral, Chaparral Lite, Chaparral Signature
Crossroads – 5th wheel models: Cruiser, Elevation, Rezerve, Rushmore, Sunset Trail
DRV Luxury Suites (formerly Double Tree RV) models: Elite Suites, Estates,  Mobile Suites, Tradition
Dutchmen – models: Denali, Infinity, Voltage (toy hauler)
Dynamax – model: Dyna Aire
Eclipse Recreational Vehicles Inc. – Attitude (toy hauler), Iconic (toy hauler), Milan,  Stellar (toy hauler)
EverGreen Recreational Vehicles – models: Alfa Gold, Bay Hill, Lifestyle, Tesla
Excel Fifth Wheels – models: Limited, Wild Cargo (toy hauler), Winslow
Forest River – standard models: Blue Ridge, Cardinal, Cedar Creek, Hemisphere, Heritage Glenn, Salem, Sandpiper, Sandpiper Select, Sierra, Sierra Select, Silverback, Surveyor, V-Cross Classic, V-Cross Platinum, Wildcat, Wildcat Maxx, Wildwood
Lite models: Cherokee, Flagstaff Classic Super Lite, Hemisphere, Heritage Glenn, Rockwood Signature Ultra Lite, Salem, Sandpiper, Sierra Select, Surveyer, V-cross Platinum, Vibe, Wildcat Wildcat Maxx, Wildwood
Toy hauler models: Hyperlite, Nitro, Thunderbolt, Vengeance, Viper, Wolf Pack, Work and Play
Forks RV –  models: Axiom, Continental Coach custom 5th wheels
Grand Design – models: Momentum (toy hauler), Reflection, Sulitude
Gulf Stream – models: Canyon Trail, Enduramax (toy hauler), Ridgeline, Sedona
Heartland – models: Bighorn, Big Country, Cyclone (toy hauler), ElkRidge,  , ElkRidge Extreme Lite,  Gateway, Landmark, Prowler, Road Warrior (toy hauler), Silverado, Sundance, Sundance XLT, Torque (toy hauler)
Holiday Rambler – model:  Presidential
Jayco – models: Eagle, Eagle HT, Eagle Premier, Eagle Touring Edition, Pinnacle
KZ Recreational Vehicles (KZ RV) – models: Durango, Durango 1500, Goldrush, Inferno (toy hauler), Sportsmen, Sportsmen Sportster (toy hauler), StoneRidge, StoneRidge Sportster (toy hauler)
Keystone RVs – models: Alpine, Avalanche, Carbon, Cougar, Cougar Half-Ton, Cougar High Country, Cougar XLite, Energy, Fuzion, Hideout, Hornet, Impact, Laredo, Montana, Montana High Country, Mountaineer, Outback, Raptor, Springdale, Sprinter Copper Canyon, Sprinter Wide Body, Sydney
(Note: Several models have toy hauler floor plans.)
Livin Lite –models: Camplite, Quicksilver  (toy hauler)
New Horizons – (factory direct) models: Majestic, Motomover (toy hauler), Summit
Northwood Manufacturing – models: Arctic Fox, Fox Mountain
NuWa Industries – models: Hitchhiker LS, Hitchhiker Champagne, Hitchhiker Discover America
Open Range – models: 3X, Journeyer, The Light, Mesa Ridge, Roamer, Open Range, Residential
Pacific Coachworks – models: Powerlite (toy hauler), Sandsport (toy hauler)
Palomino RV – models: Columbus, Puma, Sabre, Sabre Silhoette
Play-Mor Trailers, Inc. toy-hauler models: Motorsport, Motorsport Deluxe FW, Racer
Primetime Manufacturing – models: Avenger, Crusader, Sanibel, Spartan (incl. toy hauler model)
Recreation by Design – Designing custom-built recreational vehicles is our business.
Shasta – models: Phoenix, Revere
Skyline RVs – modes: Aljo, Aluma Sky Travel, Eccocamp, Koala Super Lite, Layton, Nomad, Skycat, Walkabout, Weekender
Space Craft Mfg. – Custom Built
SunnyBrook– models Raven
Winnebago –models: Destination, Lite Five
---
Photo Credits:

 Our Home –   Some rights reserved by .Larry Page
 A modern fifth-wheel trailer with a single slide-out – This work has been released into the public domain by its author, Bill W Ca at the wikipedia project.