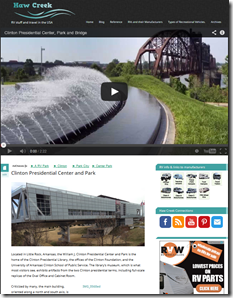 I've added a new page providing information on the Clinton Presidential Center and Park as well as related links.
The page is a good model for what I want to do with location pages on Haw Creek.  Each will provide information about whatever place it is, a video or slide show with related imagery, and links to sites with more information.
When researching places online, most have a large number of pages returned in a search.  Unfortunately, all too often, most have limited information, have no value for the topic researched, or are little more than spammy pages with very thin or zero content.
The location pages on Haw Creek will always include relevant content and the links included with location pages will always be to sites that are relevant to the topic and have good content.  Links will not be included to low value sites, spammy sites, sites that are slow to load, or sites with excessive features that eat up bandwidth or otherwise interfere with the visitors ability to get to the content.