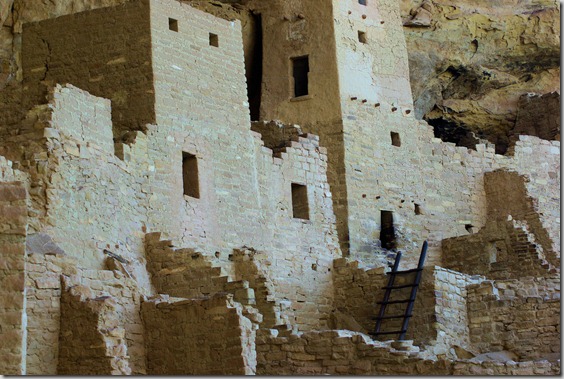 Click on photo to see larger version
Mesa Verde National Park, Colorado, September 13, 2009

On the Cliff Palace loop you may visit one of two cliff dwellings by guided tour, Cliff Palace or Balcony House. These sites can only be reached by a one-hour ranger-guided tour. Tickets for tours are purchased only at the Far View Visitor Center. Rangers begin the Cliff Palace tour from the overlook at the end of the entrance trail. To enter Cliff Palace on a guided tour, one must descend approximately 100 feet into the canyon on a steep trail that includes 120 uneven stone steps. Throughout the tour one will climb five eight foot ladders.
---
The photo is from the newest of my photo galleries and the second from Mesa Verde.  The gallery includes images from Cliff Palace — a Puebloan culture cliff dwelling —, the Knife Edge Trail and more.
Gallery: Cliff Palace and More — September 13, 2009, Mesa Verde National Park, Colorado
---
See more of our
Image Galleries at Haw Creek
.
---