Many motorhome manufacturers are producing Class C models built on the Sprinter chassis.
Class C motor homes are built on van or truck cutaway chassis –  incomplete truck or van bodies that comes with the vehicle cab, including engine, doors, dash and cockpit area.  Some may be equipped with heavier components than the comparable complete product.  Since the Class C is constructed using the entire front of of a standard road vehicle, with all-steel cage and frontal crush area, it is a safer motor home than Class A RVs built on top of a bare-bones chassis.  Also, while Class A RVs have a single entrance, the Class C normally has a door behind the cab while retaining the driver and passenger side doors.
The cab-over that often distinguishes Class C RVs usually contains a bed or a built-in storage area that may include an entertainment center.  However, some Class C motor homes don't include an pronounced cab-over.
Driving and living areas are connected, which allows access without exiting the vehicle.  Most  Class C motor homes can tow a small vehicle for running errands and sightseeing without having to move the camper from the campsite.
Some manufacturers are building very large Class C motor homes on semi-truck cut-away chassis.  While most Class C models top out at around 28 feet or so, the larger Super C models and semi-truck models rival Class A motor homes in length and amenities.
Many Class C motorhomes are available with one or more slide-outs, which increase the available living space, when parked.  The weight added by slideouts, though, reduces the payload of the vehicle – the cargo that can be carried inside or in exterior compartments without exceeding design weight limits.
Class C motor homes are fairly easy to drive compared to bus size Class A motorhomes and trailers.  Most are also easier to park, especially at campsites and where backing is required.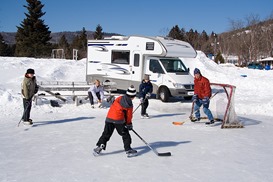 Links to Class C motor home manufacturers
(with listings of current models)
 Born Free  – models: Freedom, Majestic Spirit, Splendor, Triumph, Royal Triumph
 Coachhouse  – models: Platinum, Platinum II
 Coachmen RVs  – models: Concord; Freelander; Leprechaun; Prism
 Dynamax  – models: Isata E-Series, Isata F-series, DX3, Dynaquest ST, Dynaquest XL, Grans Sport GT, Grand Sport Ultra
 EarthRoamer [four wheel drive (4WD) expedition vehicles– models: XV-LT (F-550 based), XV-HD (F-650 based)
 Fleetwood RV –  models: Jamboree Searcher, Jamboree Sport, Tioga Montara, Tioga Ranger
Forest River – models: Forester, Lexington, Solera, Sunseeker
 Haulmark Motorcoach – models: 4001MS, 4101SB, 4501DB, 4502DS, 4504HB, 4505FG, and several models of toy haulers. Sport Deck is designed as a tow vehicle with "incredible comforts" in the living quarters.
Holiday Rambler  – models: Aluma-Lite C; Augusta B+
Host RV – models: 270 Motorcoach, 300 Triple-Slide, 330 quad-Slide
 Itasca by Winnebago – models: Cambria, Viva!, Navion, Navion IQ, Spirit, Spirit Silver, Impulse Silver
 Jayco– models: Greyhawk, Melbourne, Redhawk, Seneca
 Lazy Daze (factory direct since 1956)
Leisure Travel Vans – models: Libero, Serenity, Unity
Monaco – model: Montclair B+
Nexus RV (Factory Direct) – models: Viper, Phantom, Ghost
Phoenix –  model: Cruiser
Pleasure-Way – models: Pursuit, Prestige
Powerhouse Coach – built on semi-truck chassis
Renegade – models: Explorer, Ikon, Renegade Motorcoach, Villagio
Show Hauler – Custom built motorhomes, tow vehicles with living quarters, and garage home toy haulers built on semi-truck chassis
Thor Motor Coach – models: Outlaw Class C (toy hauler), Four Winds, Four Winds Super C, Chateau, Chateau Super C, Siesta Siesta Sprinter, Citation Sprinter
 Tiger Adventure Vehicles – models: Bengal CX, Bengal TX, Malayan, Siberian
UniCat Americas, Inc. – models: Unimog, Unimog Lite (expedition RV built on multi-wheel drive cutaway truck chassis)
Weekend Warrior – model: Road Warrior
 Winnebago – models: Access Premier; Aspect; Minnie Winnie; Minnie Winnie Premier; Outlook; Trend; View; View Profile
Xplorer Motor Homes – model: Xcursion