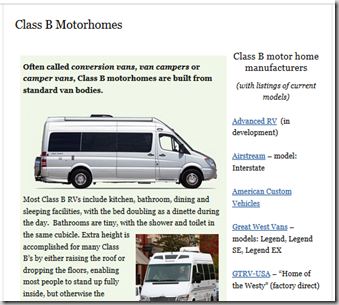 Continuing with page additions and upgrades, the new page for Class B RVs is up.
I'm actually creating almost completely new pages for the each of the different types of RVs.  The old pages will automatically redirect visitors to the new page.
The new pages have a lot more content related to the topic.  For instance, the Class B Motorhomes page is actually a short article that describes what a Class B is and how it differs from the other motorhome classes.
The page also has links to current manufacturers of Class B RVs.
Example of kitchen and dining inside a Class B RV