Protected by act of Congress in 1972 as the United States' first federally protected river, the  Buffalo River is one of the few remaining unpolluted,  free-flowing – no dams – rivers in the lower 48 states, offering both swift-running and placid stretches for activities such as canoeing, fishing, and swimming, as well as hiking in the park and adjacent national forest and wilderness areas.  (Click on map to open larger version in pdf format.)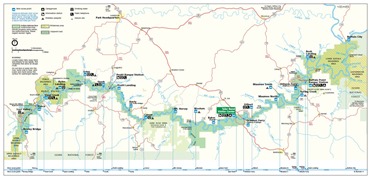 Over time, the river has carved a path out of an ancient seabed, part of the Arkansas Ozarks, leaving behind bluffs of dolomite, sandstone, and limestone that tower as high as 440 feet over the water.  In it journey from its headwaters in the Boston Mountains to its confluence with the White River, the Buffalo drops over 2000 feet, with quiet pools standing between runs of swifter water.
Because it is a pure, free-flowing stream which has not been significantly altered by industry or man, it is considered to be one of the country's last significant natural rivers. It is not one single quality, but the combination of its size, its completeness, its wild qualities, and its associated natural, scenic and historic resources that makes the Buffalo worthy of national recognition. (1972 U.S. House of Representatives Committee Report.)
Situated in the Ozarks Mountains in the middle of an immense hardwood forest, 135 miles of its approximate 150 mile length is in the boundaries of the National River. The river begins as a trickle in the Boston Mountains above the park boundary, where it is managed by the U.S. Forest Service as a National Wild and Scenic River. The Buffalo is a tributary of the White River and the National River preserve is home to Arkansas' only elk herd. One of the biggest attractions in this wilderness is Hemmed-in-Hollow, the tallest waterfall between the Rocky and Appalachian Mountains.  Within the park boundaries are over 300 caves as well as many springs and seeps, some of which have flow even in the driest months of the year.
Prehistoric and historic cultural sites in the park include Native American terrace village sites and bluff shelters as well as cabins and other buildings built by early settlers. Pioneers settled along the river valley and in communities like Boxley and Erbie.  Portions of the Boxley Valley continue to be farmed today.  Cultural heritage sites in the park include the Parker-Hickman Farmstead at Erbie, the Rush Mining District, the 1930s Collier Homestead at Tyler Bend, and Civilian Conservation Corps structures at Buffalo Point.
Two former Arkansas state parks now with in the national river boundaries were closed and turned over to the National Park Service on October 16, 1973. Buffalo River State Park  – constructed as a Civilian Conservation Corps project under the direction of the National Park Service – was created in 1938.  Lost Valley State Park was established in 1966.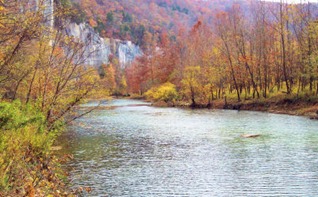 Wildlife seen on occasion in the park include white-tailed deer, mink, beaver, raccoons, bobcats and black bear.  Wildlife observers have recorded 55 species of mammals, 250 species of birds, and 59 species of fish, along with a multitude of reptiles, amphibians, insects and other invertebrates.
Elk can be occasionally seen on the banks of the upper river.  Eastern elk, exterminated in the 19th century, were replaced in 1981 with Rocky Mountain elk through the Arkansas Game and Fish Commission's Elk Restoration Project. The project was an overwhelming success and  special-permit hunting is now used to keep the elk population in balance.  Elk can be most frequently seen in late winter and early spring in the meadows of Boxley Valley.
In 1995 the largest sighting of feral hogs on the Buffalo National River was reported, a herd of 35 spotted in the Lower Buffalo Wilderness Area. Feral hogs have been released into the park from numerous sources, and now hogs range up and down the whole river corridor.
The park's ridges, bluffs, hillsides, and valleys provide a variety of habitats that support over 1500 plant species. The major forest types are the Floodplain, Mixed-Hardwood, Oak-Hickory, Oak-Pine, Cedar Glade and Beech.
Forests, cultivated fields, and abandoned fields at different stages of ecological succession throughout the area support small herds of elk and other wildlife.  Wildflowers can be seen nearly year round at Buffalo National River, but spring is the peak season. Spring rains and warm balmy days bring amazing color to the fields and roadsides of the park. In early spring, many wildflowers can be found on the forest floor.
There are three wilderness areas in the park: Upper Buffalo, Ponca , and Lower Buffalo. No motorized vehicles are allowed in the wilderness areas, except for small motors for boats on the river.  Seasonal hunting as well as fishing is permitted in the wilderness areas, which also have hiking and horse trails for visitor use.
The Upper Buffalo Wilderness Area in the park consists of 2,200 acres that adjoin the 11,054 acre Ozark National Forest Upper Buffalo Wilderness Area.  Upstream from Boxley, the area includes bluffs, caves and rough terrain.
The 11,300 acre Ponca Wilderness Area, stretching 11 miles from Ponca to below Kyles Landing, offers waterfalls, bluffs, caves, old homesteads and rough terrain.  A 2½ mile trail leads to Hemmed-In-Hollow Falls.  Other trails include a 4 mile hike along an old road, a 4½ mile hiking/equestrian trail, as well as other trails.  The most used portion of the river is that which passes through the Ponca Wilderness.
The Lower Buffalo Wilderness Area, at 22,500 acres abuts the National Forest Service's 16,900 acre Leatherwood Wilderness.
The very best way to see the park, of course, is on the river, by canoe, kayak, johnboat or raft.  Planning a float trip is important. An interactive website takes data at certain points on the river and provides real-time information about velocity at that point.  The river is untamed and conditions change, sometimes daily.  Information may not be available on the most recent changes, such as a fallen tree blocking part of the river.
There are 22 access points along the river.  Boats are available from local authorized concessioners – no permit required. Concessioners provide canoes, paddles, life jackets, mesh litter bags, and shuttles. For an additional fee, some outfitters will shuttle vehicles to a take-out point. Motors are allowed on vessels upriver to Erbie Boat Launch. Outboard motors are limited to 10 horsepower. Johnboaters must yield to all other watercraft. Life jackets are required in all boats and are required to be worn by children 12 and under. River levels are posted at river access points and can be found on the internet or by calling the ranger stations or visitor center.
The Buffalo River area can also be explored by traveling winding mountain roads on three auto tours "past beautiful scenery, historic locations, small shops, restaurants, and other hidden treasures of the Ozarks." The Compton and Boxley Valley tour, Erbie Loop tour, and Buffalo Point and Beyond tour are described on WikiTravel.  As there are few roads which parallel the river and few accessible overlooks,  the best ways to see the park is by trail or by water.
Several campgrounds in the park are open on a first-come, first-served basis. Reservations can be made in advance for campsites and pavilions at Buffalo Point, for group campsites at Tyler Bend and Erbie, and for pavilions at Tyler Bend, Ozark and Lost Valley by calling (877) 444-6777 or on line at www.Recreation.gov.  Some sites include RV sites with water and electricity.  Showers are available at Buffalo Point and Tyler Bend. Due to sequestration and budget cuts, some facilities will be closed and others will have reduced services.
Both rustic and modern cabins can be rented at Buffalo Point.  The rustic cabins are over 60 years old and were constructed by the Civilian Conservation Corps.  Rustic cabins are available from  the beginning of May through the end of November, while modern cabins are open year round.
Buffalo Point Concession operates the only restaurant within the park boundary at Buffalo Point from Memorial Day through Labor Day. Many float concessioners sell snacks, prepared food items and/or various groceries.
The National River is managed as three districts. Each district has its visitor contact station and canoe concessions, and each is best reached by primary roads which cross the river. The park headquarters is in Harrison.  Tyler Bend Visitor Center, located eleven miles north of Marshall on US 65, is the main visitor center for the park. Other National Park Service contact points are the Pruitt Ranger Station, five miles north of Jasper on Highway 7, and Buffalo Point Ranger Station, 17 miles south of Yellville on Highway 14.
There is no entrance fee for the park.  An Arkansas fishing license is required for fishing and may be purchased online from the Arkansas Game and Fish Department.
There are over 100 miles of maintained trails in the park with the majority of trails open both to horse and hikers. These dual use trails are identified with yellow trail markers. For safety of horses and ecological protection of sensitive areas, some trails are restricted to foot traffic only – blazed with white trail markers. Trails are marked only at trailheads, at confusing intersections, and where the trails become easily overgrown in the summer. They are, for the most part, left natural and unmarked. Several trails are suitable for backpacking, including the 37 mile Buffalo River Trail. The eastern end of the Ozarks Highlands Trail begins at Woolum.
Hiking and trail tips:
The best times to hike is during the cooler months rather than during the heat of summer.
If you do hike in the summer, start early and carry plenty of water, especially if you will be hiking during the heat of the day.
Since trails are, for the most part, left natural and unmarked, it is prudent to carry a trail map for reference.
Some trails require river crossings that may be impassable at high water.
Bicycles and pets are not allowed on park trails.
Trails:
Lost Valley Trail, 2.1 miles round trip (3.4 km), This trail begins at Lost Valley Campground. Features along the trail include waterfalls, towering cliffs, a large bluff shelter, a natural bridge, a cave and spring wildflowers. The cave is about 200 feet long and ends in a large room with a 35 foot waterfall. If you intend on entering the cave, make certain each person in your group is equipped with a flashlight.
Ozark to Pruitt Trail, at Pruitt, 2.6 miles (4.2 km), Many wildflowers are in bloom along this trail from March through June.
Mill Creek Trail, at Pruitt, 2.1 mile loop (3.4 km), This level trail follows Mill Creek through a lowland hardwood forest and features a pioneer homesite. This trail begins at the east end of the Pruitt river access. This level trail follows Mill Creek through a lowland hardwood forest and features a pioneer homesite. This trail is best hiked before summer grasses take over the trail. Additional information is available at the Pruitt Ranger Station or Park Headquarters.
River Overlook Trail at Tyler Bend, 1.1 mile loop (1.8 km), The Collier Homestead provides one of the many glimpses into the past that is visible up hollows, atop ridges, and along the river corridor. This trail begins at the Collier Homestead parking area at Tyler Bend. The loop trail leads you to the historic Collier homestead and to river overlooks. The trail is accessible to wheelchairs for one-half mile, including the homestead and first overlook. The Buffalo River Trail can be reached from the Collier Homestead parking area.
Indian Rockhouse Trail, at Buffalo Point, 3.5 mile loop (5.6 km), Begin your journey to the Rockhouse, a large bluff shelter once inhabited by Indians, at the trailhead located between the ranger station and restaurant. The return trail is a strenuous uphill climb.
Overlook Trail, at Buffalo Point, 0.6 mile (1.1 km), This easy hike will lead you to a beautiful overlook of the Buffalo River. Begin at the trailhead located between the ranger station and restaurant.
Campground Trail, at Buffalo Point, 1.3 miles (2.1 km), This connector trail links the campground with the ranger station, the concession cabins, and all other Buffalo Point trails.
Forest Trail, at Buffalo Point, 0.7 miles (1.1 km), The trail leads from the group camps sites to the canoe launch area.
Morning Star Loop Trail, at Rush, 0.3 mile loop (.5 km), This path passes the ruins of the Morning Star Mine buildings, including the remains of a blacksmith shop, livery barn, and smelter built in 1886. Begin at the Morning Star Trailhead. DO NOT ENTER MINES.
Rush Hiking Trail, at Rush, 2.2 mile (3.5 km), Begin your hike at either the Morning Star Trailhead or Rush landing. The trail is completed to Clabber Creek.
---
More information: