Mesa Verde's Balcony House is a very memorable — and challenging — place to visit. It certainly isn't for those who have a fear of heights or a problem with tight spaces. Those with health problems that prevent strenuous activity should not attempt this tour.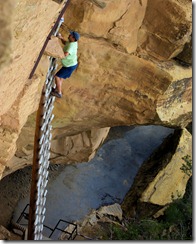 From the park website: The Balcony House tour requires visitors to descend a 100 foot staircase into the canyon; climb a 32 foot ladder; crawl through a 12 foot, 18 inches wide tunnel; and clamber up an additional 60 feet on ladders and stone steps.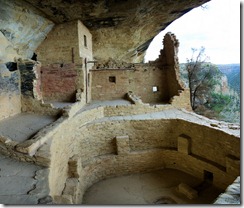 The climb out: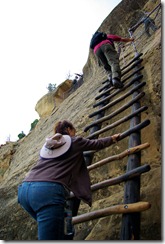 Rain in Montezuma Valley: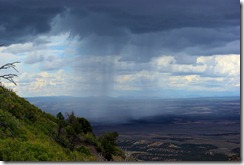 Tansy Aster against a ruin wall: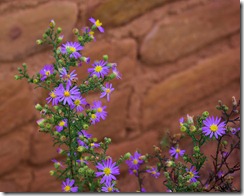 Mesa Verde National Park, September 14, 2009
We had tickets for a 10 AM ranger guided tour of Balcony House. We had been to this ruin at least two other times before, the first in 1986, when we were in our mid-thirties.
To get into the ruin requires a bit of a climb, shown in the two views below and the one on the right, which exaggerates the steepness of the ladder because I had to rotate the image a little to get it all in.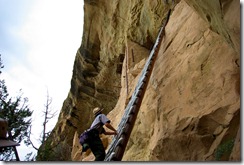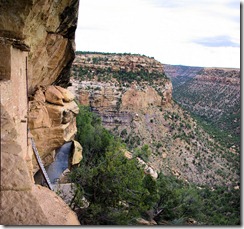 Waiting to go through the small passage:
A hungry coyote zeros in on food — found on road: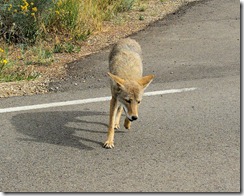 Rabbitbrush with Sleeping Ute Mountain in the background: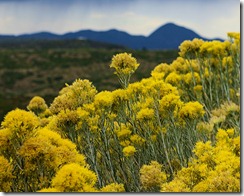 .
.
Commentary and images from the road
image and information from September 14, 2009
This post is being simultaneously published on Exit78 and Haw Creek Out 'n About