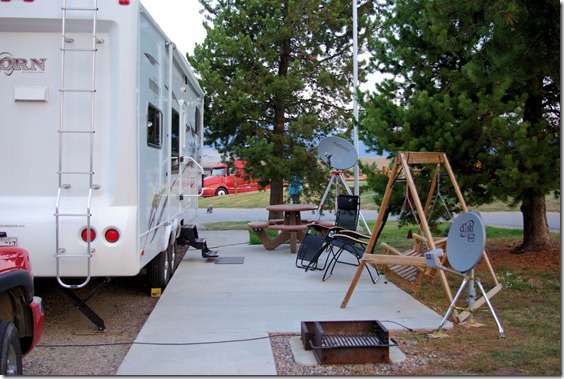 ---
Image Gallery:
Around the Upper Loop
, September 13, 2007
(click on image for larger version)
---
---
We were camped at West Yellowstone KOA several miles west of town for nearly a week in September 2007.  Our camper was a Big Horn fifth wheel by Heartland.  We were set up with satellite TV and satellite internet and had almost all of the conveniences of home.
For all of the conveniences, though, we found that we were not doing the kind of camping that we really preferred.  We prefer national and state park and forest campgrounds, but found in some of those kind of campgrounds that maneuvering into sites that could accommodate the size of our 5th wheel was often difficult and, in some instances, there just were not any sites that we felt comfortable with trying to get into.
We now have a small motor home and are able to get into just about any campground that we want to with little or no difficulty.  The only ones we can't get into are those restricted to tent camping and those that we can't get to with the camper.  We've visited a couple of places where the curves were so tight that our 25 foot motor home was over the length limit.  We're also not quite yet prepared to go too many miles down an unpaved road.
In 2009, we camped in 4 national park* campgrounds, 4 nights in each one.  We didn't have satellite TV or internet and we were doing the kind of camping we really prefer.
---
See more of our
Image Galleries at Haw Creek
.
---
* Great Smoky Mountains National Park, Shenandoah National Park, Rocky Mountain National Park, and Mesa Verde National Park