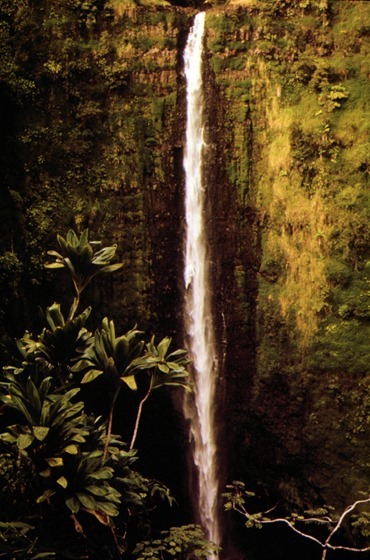 Akaka Falls State Park, Hawaii, November 1973; photo by Charles O'Rear.
National Archives image.
ʻAkaka Falls State Park is a state park on Hawaiʻi Island, in the US state of Hawaii.

The park is about 11 miles (18 km) north from Hilo, west of Honomū off the Hawaii Belt Road (route 19) at the end of Hawaii Route 220. It includes ʻAkaka Falls, a 422 feet (129 m) tall waterfall. ʻAkaka in the Hawaiian language means "A rent, split, chink, separation; to crack, split, scale".  The accessible portion of the park lies high on the right shoulder of the deep gorge into which the waterfall plunges, and the falls can be viewed from several points along a loop trail through the park. Also visible from this trail is Kahūnā Falls.
Links:
Random camping and travel images #27