About Haw Creek
Much of what Haw Creek is about is sharing  information related to RVs and RV travel.  However, there will also be posts will be on other things that interest me. The Haw Creek Shop offers a variety of products to help support this site and our post-retirement life.
Research is important for any major purchase, including the purchase of an RV.  Haw Creek provides information for each of the major types of recreational vehicles, along with links to most US RV manufacturers.
References and Research  is a collection of websites, pages, and blog posts with RVing related information.  Whether you're a newbie researching your first RV or a seasoned full-timer, there's something for every RVer in these links.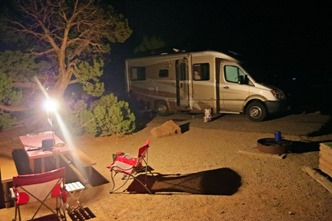 Destinations is a growing compilation of links to descriptions, reviews and photo or video tours of interesting places, primarily in the United States. Since Haw Creek is RV oriented, Destinations mainly links to blog posts and pages by RVers, though other quality pages about travel destinations will be included.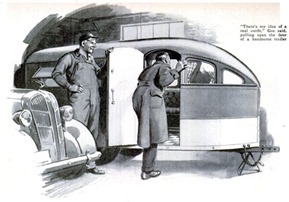 Vintage takes a look back at earlier days of camping and RVing.
The Haw Creek blog includes posts going back several years, including information on and pictures from places that we've enjoyed visiting.
Some pages reside yet at the previous Haw Creek web site.
More RV research material is planned.  For instance, a comprehensive glossary of RV terms is in development.
About Mike
My first RVing adventure was to Colorado with my
grandparents and 17 year-old uncle when I was 5.  I don't remember much about it. We lived in North Platte, Nebraska and the furthest point I remember was Royal Gorge, which is about 400 miles away.  The camper was rented and small, similar to this 1957 Shasta.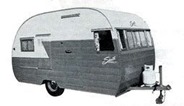 In my memory, the next camping trip seems like forever after the first one, but it was only 5 or 6 years later. This trip was to Wyoming with my grandparents and younger sister, again in a small rental travel trailer.  It was my first of many visits to Yellowstone and the Tetons. Our first camping stop, Pelican Creek Campground1, in Yellowstone, was particularly memorable.  Mosquitoes were terrible and many actually invaded the trailer. Trying to kill one, I broke the trailer's front window.
Those two trips were the extent of my camping experiences, except for a couple of Boy Scout overnighters, until after I was married to Karen.  From our first camping trip to Yellowstone in 1973 until 1985, we were tent campers.  In 1985, we rented a very small travel trailer for a  vacation trip from our home in Arkansas to Colorado.  Not long after, we bought a similar small, used trailer – it could even  have been the same one – which we used for several  long trips until it was damaged beyond repair in a rear-end collision in the early 90s.
After our little trailer was damaged, we had a few tent camping trips over the next 15 or so years, including a couple of weekends backpacking.  Most of our trips, though, were tacked onto business trips, so our lodging was  hotels and motels.
In 2006, just before I retired, we bought a high profile 5th wheel.  We took several trips with it,  but, for many reasons, it wasn't a good fit for us.  We now travel in a 25 ft. Class C motorhome, towing a small car, several weeks to several months each year.
So far as non-RV related information, Karen and I have been married for over 40 years and have two daughters, two sons-in-law, and two grandchildren.  After age 20, I was employed in nuclear power, first in the US Navy, including submarine duty, and then at a commercial power plant.  Since I retired, I have periodically worked as a contract instructor.  In my late 30s, I received a bachelor's degree in industrial technology.
Mike Goad 5/2/2014
---
1 Pelican Creek Campground was located on the north side of the East Entrance Road along the east side Pelican Creek and Pelican Valley. It was constructed as an overflow campground for the nearby Fishing Bridge Campground. Both campgrounds were removed due to concerns over grizzly bear/human conflicts. (Yellowstone Wiki)