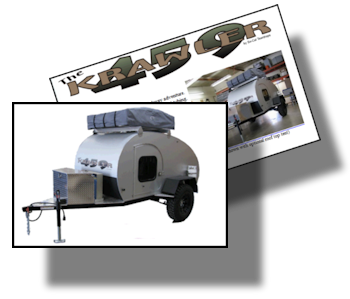 Since I am working on material for both teardrop trailer and off-road RV pages, the Krawler 459 from So-Cal Teardrops caught my attention.  The company's website has this overview
The "Krawler 459" is built for an off-highway adventure. The Krawler's frame is built of 2″x3″-.120 wall steel tubing. Equipped with heavy duty Old Man Emu leaf springs, sprung under a 3500 lb axle with 10″ electric brakes and 9-way adjustable Rancho RS9000XL shocks. Comes standard with mounts for optional tongue box and 5 gallon gas/water can holders. Hubs are spec'd to match your vehicle's wheels and tires. The Krawler's cabin is built with a reinforced rib system to combat the extra forces seen when traveling off-road. The full size mattress provides plenty of sleeping space for two adults and is outfitted with an AM/FM/CD radio, cabin light, 12v outlet, cubbies, shelves and cupholders.
The Haw Creek Teardrop Trailer Manufacturers and Kits page update is well underway.  There are six new listings and one that has been marked for deletion.  An interim page has been posted with current changes included.